What is Plumber SEO?
Plumber SEO is a series of tasks aimed to maximize a plumbing company's visibility and performance on search engines. The acronym, SEO, stands for search engine optimization, which is a fancy way of describing the process of improving a website's search engine results. While most plumbing companies think about SEO for their website, other web entities also require SEO, most notably; Google My Business listings.
SEO Fundamentals for Plumbing Companies
Learning the fundamentals helps organize different aspects of optimization and helps plumbers better understand the process. If you are going to achieve optimal results in 2022, you must study the basics first. Contractors who already understand the basic SEO components can move on to the next section. For those just learning SEO, read through the following fundamentals to get a better feel for what comes next.
On-Page SEO
On-page SEO is the most common form of search optimization. People vaguely familiar with SEO often understand the meaning of keywords, meta descriptions, and title tags, but may not grasp how to properly implement them on a website. These are a few of the many components of an on-page SEO strategy. Despite its relative popularity, on-page SEO is easy to mess up. Some primary features of on-page SEO are:
Header Tags: H1s, H2s, & H3s
Keyword Placement: Insertions of top keywords for plumbers within different page elements
Meta Descriptions: 158 characters (928 pixels) shown beneath search results
Title Tags: SEO titles shown on search results and the browser
URL Structure: URLs displayed in the web address

Off-Site SEO
Having on-page SEO is excellent, but it won't be enough to reach the top of Google search results for the most competitive keywords. To achieve the top rankings, you'll need an off-site SEO strategy. Although off-site tasks are discussed less frequently, off-site SEO is critical to an online presence. Google values trust and authority, which is something you mostly establish away from your website, through link building, citations, and review generation.
Brand Mentions: References to your brand on external domains
Link Building: Inbound links to your website from external domains
NAP Citations: Business citations from directories like Angie's List, BBB, & HomeAdvisor
Social Media: Business profiles on Facebook, Instagram, LinkedIn, Twitter, & YouTube
Local SEO
The local portion of search engine optimization has become increasingly critical over the last decade. Plumbing services are one of the top industries for local SEO. As Google has integrated location data like geo-coordinates into their search algorithm, they can now display results dynamically based on the searcher's current location. Additionally, the emergence of mobile devices and WiFi internet access has encouraged more frequent search queries and more relevant search results.
Here are some of the primary components of
local SEO for plumbing companies
:
Google Maps: Verified business location on Google Maps
Google My Business: Verified business page on Google My Business
Online Reputation: Branded and optimized profiles throughout the web, preferably with reviews
Online Reviews: Customer reviews on Google, Facebook, and elsewhere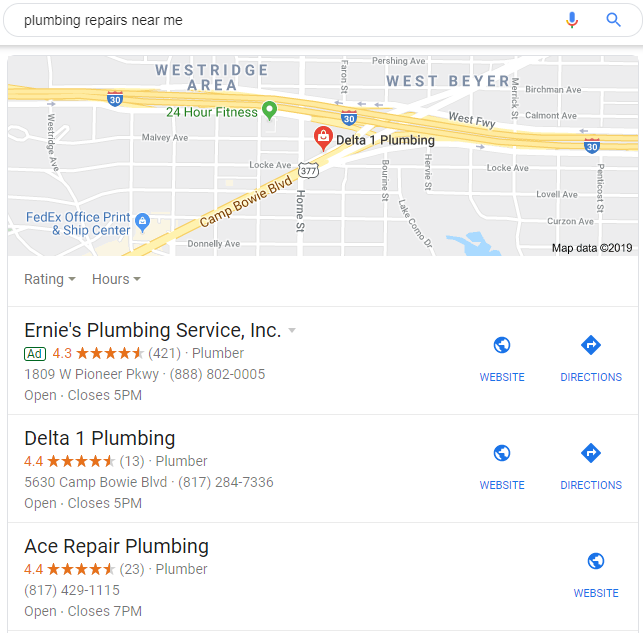 Technical SEO
The most understated aspect of search optimization is technical SEO. Technical optimization occurs behind the scenes, so only those affiliated with web design and programming understand how it works. These technical refinements are sometimes hidden from the user and only apparent to someone with a web development background. Keep in mind, however, that this doesn't make them any less important. For the other SEO components to reach their fullest potential, the technical element is imperative. Examples of technical SEO include:
HTML / CSS Coding: Internal coding for clean, responsive web display and navigation
Mobile Display / Optimization: Optimal display and coding for mobile devices
Schema Markup: Microdata tags that help Google interpret website content
Site Speed: Minimized loading times for websites and their pages
Website Design: The website design itself, including aesthetics and navigation

Advanced SEO Concepts for Plumbers
Now that you understand the SEO basics, it's time to dive deeper into the tasks that influence rankings. Every plumbing company wants to rank #1 on Google, which is why SEO is so competitive in 2022. Performing the correct tasks consistently is how you earn top rankings. Although SEO is not something you can implement overnight, its long-term sustainability is one of its most appealing characteristics. Plumbers who can master SEO will reap the rewards forever.
Content
Content is one of your greatest tools for ranking on Google and one of the most critical SEO elements in 2022. Unlike other components, content does not require your company to have a massive brand name or tons of online reviews. In many ways, content evens the playing field for SEO. Plumbing Companies that produce the best content for users can outrank competitors with larger budgets, bigger names, and more employees. Let's take a look at some content tactics.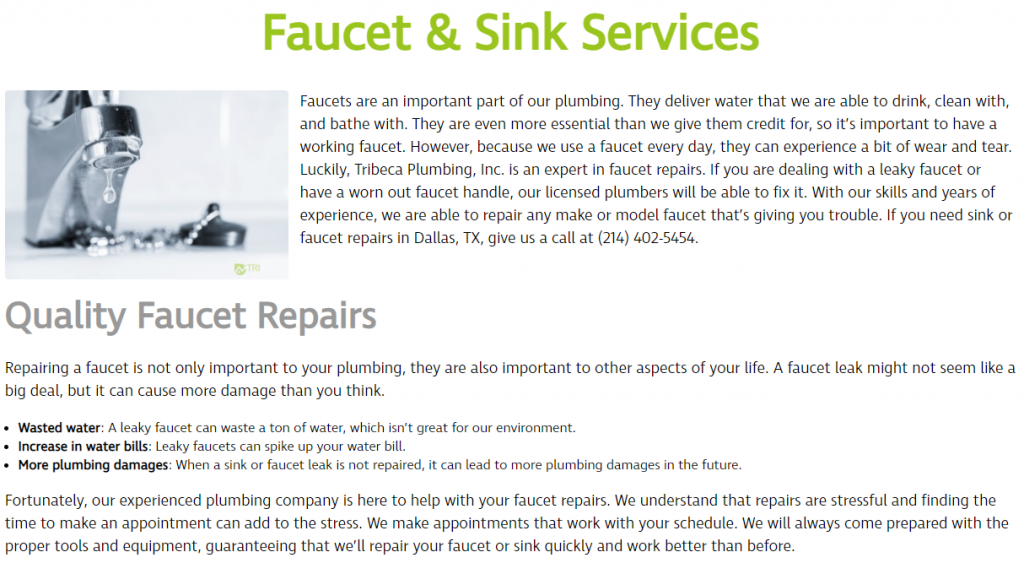 Service Pages
Plumbers who write individual pages for each service will benefit mightily on search. When you craft original content for each service type, like plumbing repair, burst pipe repair, slab leak repair, etc… you can build topical authority on your website. The key is to interlink service pages to one another, so that Google crawls your website and understands the depth of its content. The more services you can cover, the more authority you can gain, without link building.
Blog Posts
Most plumbers make mistakes with their blogs from day one. They either write thin and low-quality posts that waste their crawl budget, or they don't write any blog posts at all. The key to blogging for SEO is creating linkable assets that appeal to a large audience. Unlike service pages, blog posts should not target only your target consumers. Instead, it should target a larger range of readers who might find an interest in what you have to share with them.
City Pages
Like with blog posts, plumbing companies often produce the wrong kinds of city pages. For example, they will mass-produce hundreds of locations with similar or duplicate content and publish them all under a service area subfolder. Google can detect spam in 2022, and they know spun content when they see it. You have to build regional authority in order to rank for specific locations, which means crafting unique content for each city page and supporting them with related blog posts.
Link Building
Link building can be a controversial subject for SEO, but Google openly admits to using links as a ranking factor. The problem is that earning links naturally is rare, as most websites don't want to link to a blog post about plumbing, and certainly not a service page. Your best chance of earning natural links is through your homepage, as other companies might list your business as a recommendation. Still, the link-building process is far more complex than anyone would like to admit.

NoFollow Links
NoFollow links are valuable for plumbing websites, and they pose a minimal threat for penalization. Since Google counts these types of links as a hint rather than an endorsement, they can ignore the worthless ones and acknowledge the worthy ones. Plumbing companies can easily build NoFollow links by listing their business on directors like Angi, HomeAdvisor, and Yelp. The same is true of social media profiles like Facebook, Twitter, and Instagram.
DoFollow Links
DoFollow links hold the most ranking influence for SEO. When an authoritative website links to a page or post on another website, there receiving site gains authority. Google views these types of links as an endorsement, which transfers part of the link equity from the sending site to the destination site. As you can imagine, professionals have found ways to manipulate this process by buying links or engaging in link schemes, both of which violate Google's guidelines. In 2022, the algorithm is better at ignoring spam links, and those that do slip through the cracks may result in a manual penalty to the website. The best way to get white-hat DoFollow links is to create long-form blog posts.
Internal Links
Internal links refer to links built from one page of your website to another. Plumbing companies have the most control over these links since they exist on their own website. Too often, web admins ignore the value of internal link equity and focus only on external links. For best SEO practice, internal links should serve the user experience. For example, a service page about garbage disposal repair might link to a blog post about the most common causes of garbage disposal problems. This way, the reader can consume informational content and then make a purchasing decision.
Reputation Management
For home services companies, in particular, Google really values trust and credibility. It is in the search engine's best interest to deliver the most credible plumbers to its users, so those users return to the search engine the next time they need a service. With this in mind, managing your online reputation is an increasingly critical aspect of SEO. There are various ways to enhance your online reputation, and a bunch of things to think about when approaching the tasks.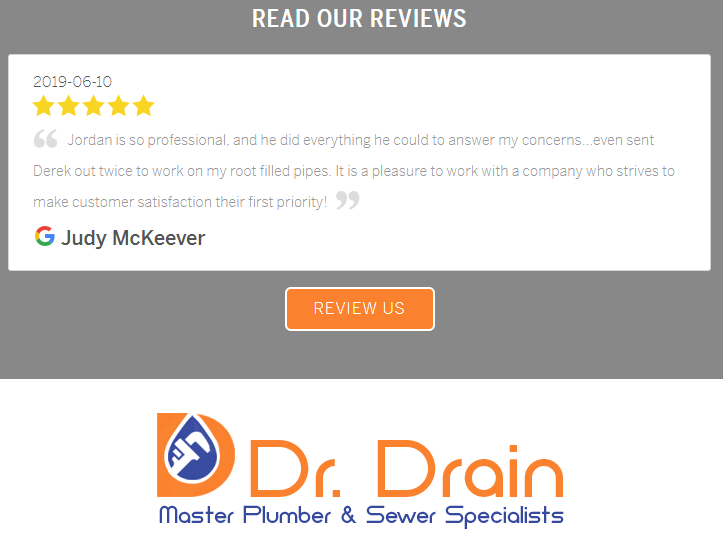 Citations
One of the faster ways to build credibility is to list your business on local directories. You can use services like Whitespark or Yext to submit listings in bulk to a variety of directories. Most directories include a NoFollow link back to your website, which strengthens your link profile. More importantly, a consistent stream of NAP citations (name, address, phone number) proliferates your contact information through the web.
Reviews
Reviews are critical to your online reputation, as most consumers trust them as much as personal recommendations. Platforms like Google, Facebook, and Yelp can filter out spam and fake reviews, instilling trust that the feedback is legitimate. Plumbers can increase reviews by using tools like DataPins which automatically request reviews from recent clients who were satisfied with the services.
Social Proof
Social proof documents things like previous work, awards, and testimonials on your website or another digital platform. An example of social proof would be a digital badge showcasing your award for best local roofing company in 2022. Tools like DataPins can publish social proof automatically by pinning recent jobs to your city and service pages, along with reviews from the customers you served.
User Experience
Google's recent Page Experience Update further cements its pledge to focus on users first and foremost. To achieve SEO results in 2022, you must keep the user first. There are various ways to enhance the user experience for your plumbing company, many of which deal with your primary website. As plumbing companies serve a wide range of clients in terms of age and technical acumen, meeting everyone's needs becomes an imperative aspect of SEO.
Site Speed
Users expect sites to load in less than 3 seconds, maximum, and that threshold will only decrease each year. Your plumbing website must load quickly, which requires a well-designed website and a technical SEO process. You can test your website speed with various tools like Google Pagespeed Insights and address potential deterrents with plugins like WPRocket. Consider investing in a content delivery network (CDN) to further speed up your website in 2022.
Navigation
Serving a wide range of clients, your website must maintain easy navigation across all device types, from mobile to desktop. Design elements like the navigation menu must cater to all users, so they stay on your website as long as possible and invest in your services. Mobile users, in particular, will grow frustrated with poor navigation and bounce from your website quickly.
Usability
Websites are held to a higher standard with ADA compliance, which ensures that disabled users can use websites. You must now consider things like text size, alt text, and voice recognition to meet the needs of all possible users. There are WordPress plugins that can help make your website compliant, but it helps to consult with a professional web designer too.
​